Professional Automotive Key Services
Door N Key Locksmith is an auto Locksmith Company that handles all car locksmith problems with the professionalism they deserve. We understand the urgency of car locksmith issues. We will go the extra mile to give you expert help at your convenience.
Predicting impending car key problems is next to impossible
Predicting impending car key problems is next to impossible. As such, having a reputable replacement car key service provider on speed dial is your first line of defense in moving past such frustrating times.
Door N Key Locksmith is home to car locksmith service providers who know their craft. Offering a vast array of auto locksmith services is where our heart is. Whether you need a transponder key or your regular car key made, be sure you can rely on us for quality services.
We deal with a diverse clientele. However, all clients have one thing in common; Time is of the essence. Our joy lies in return to normalcy. As such, we strive to offer same-day services for all your car key programming issues. Our team of experts is always ready to move if your distress call comes in. We will be there in approximately 20 minutes. However, these times may vary depending on proximity.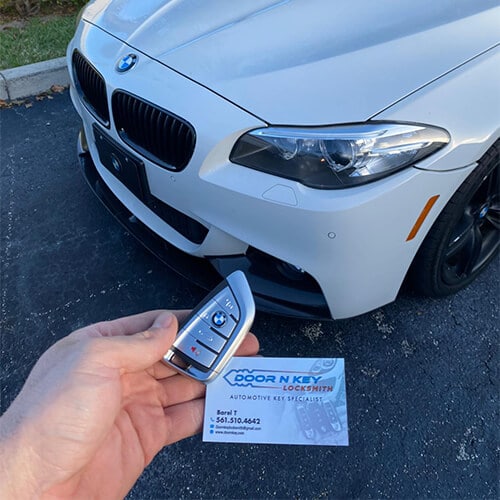 Transponder Key Issues Are No Longer A Cause For Headaches
Unlike the traditional car key, your transponder key is prone to damages. It uses radiofrequency technology, making it sensitive. From programming problems to damaged chips, transponder key issues rank top among the automotive key and lock issues we handle.
This modern key option may stop functioning abruptly. However, in most cases, it will show signs of malfunctioning. As soon as you notice a problem, call a reputable car locksmith. Ignoring such early signs is a disaster waiting to happen. Who knows, you might find yourself locked out of your car in the dead of night.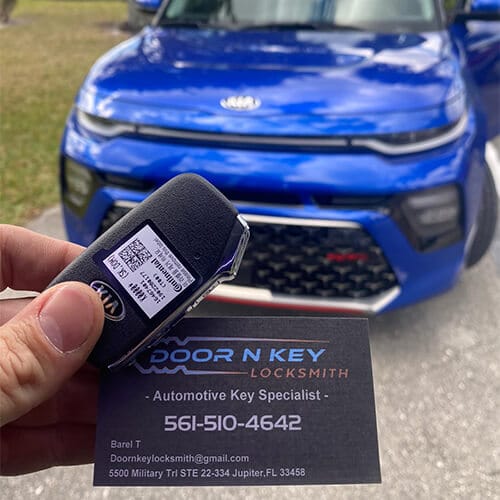 Get Your Replacement Car Key At An Affordable Price
It's unfathomable how a car key can disappear in a matter of seconds.  Whether it fell from your pockets as you were running errands or got lost in your living room's cushions, getting a replacement car key is your way out of this unfortunate situation.
Modern technology strives to minimize car key duplication by carjackers. This has led to locksmiths charging exorbitant fees for replacements. However, being an auto locksmith who cares about your wellbeing, we offer a cost-effective way to get a replacement car key without compromising on quality. No matter your car model, we have all the tools to get you a quick but durable fix.
Have Your Car Key Made By Industry Experts
DIY methods of auto key repairs may work. It's more of a 50/50 chance. However, why would you want to take that risk?
The importance of having your car key made by skilled experts cannot be over-emphasized. Failed attempts at car key repairs may cause further damage, digging deeper into your pockets.
At Door N Key Locksmith, we are a renowned car locksmith service provider in West Palm Beach, FL. Thanks to our talented technicians and the impeccable services we offer Florida residents, we are the local's favorite. Have your car key made by us to experience exemplary services.
Car Key Programming Has Never Been This Easy
Walking towards your car in a rush only to realize that your electronic key fob will not operate is not something to wish on anyone. However, such unprecedented problems happen, and that's why we are here for you.
We are the ideal auto locksmith to handle your car key programming mishaps. We reprogram new keys with ease to suit your car's settings. Besides, our skilled technicians understand the intricacies of car key programming. They will use modern locksmithing techniques to help you gain back access to your car. Whichever the make or model of the car, trust that your electronic key will be as good as new.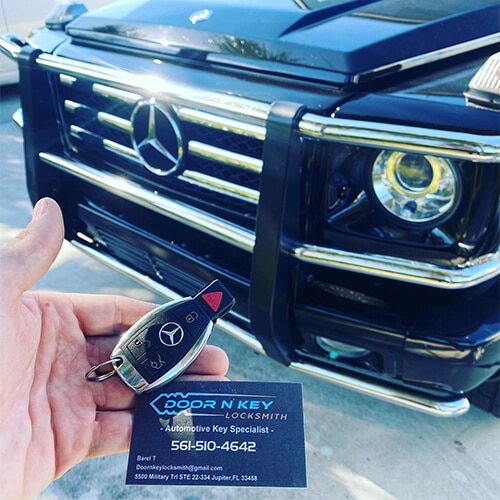 Your Quick-Response Auto Locksmith Solution
At Door N Key Locksmith, we pride ourselves in offering fast and reliable car lockout solutions. Our emergency quick-response unit is always on call, immediately sending a dispatch team your way whenever you need us.
Offering remote 24/7 services is our forte. Call us today.