Fiat 500 All Keys Lost with Active Alarms – Active Solutions for Active Problems!
In a situation where your Fiat 500 all keys lost with active alarms? There is a solutionist just close by that you can count on to help get a replacement as soon as possible. That would be Door N Key Locksmith, and don't worry about the active alarm; our specialists will bypass it.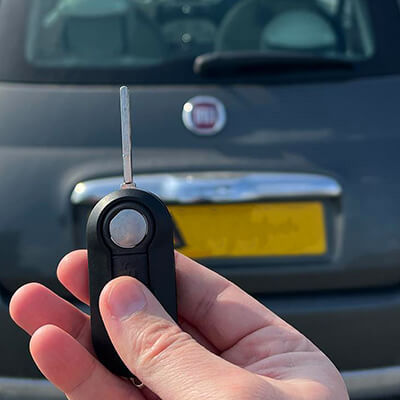 Locksmith Service in West Palm Beach, FL
Door N Key Locksmith can help with your Fiat 500 if you have lost all of your keys and have active alarms by programming new keys for your vehicle. This will require our experts to have the proper equipment and training to interface with the car's onboard computer. We may also need to disable the alarm system before programming the new keys. It is best that you contact us for the details of your car's make, model, and year. Surely, we will be able to help with your specific situation.
Fiat 500 All Keys Lost – Find the Perfect Replacement With Us!
If your Fiat 500 all keys lost, ourlocksmith can help you in several ways. One option is to create a new set of keys for your car using the vehicle's VIN (vehicle identification number). This process is called key cutting, and it typically involves our locksmith using specialized tools to create a new key that can be programmed to work with your car's ignition and door locks. Another option is to do key programming, where we will program a new key to communicate with your vehicle's onboard computer, allowing it to start the engine and unlock the doors. Why don't you contact us now?
Fiat 500 All Keys Lost with Locked BCM – A Proper Professional Service
Got your Fiat 500 all keys lost with locked BCM? Don't worry; our specialists can help with it. Our experts can handle this situation using special devices that grant them access to your car's onboard computer system. Once connected, the locksmith can then use the diagnostic tool to read and write data to the BCM, allowing them to reprogram it and create new keys. Our locksmith will also have to do key programming, allowing the new key to communicate with the vehicle's onboard computer, which then starts the engine and unlocks the doors.
Fiat 500 Locked BCM Replacement West Palm Beach, FL – A Replacement That Works!
With a team of top specialists, we can help with a Fiat 500 that has a locked BCM (body control module) by replacing the BCM and reprogramming it to work with the vehicle. This process typically involves removing the old BCM and installing a new one, then using specialized equipment to reprogram it with the proper codes and settings. Our professionals will also have to do key programming, where a new key will be made to interact with the vehicle's computer system. So, if you've got a Fiat 500 locked BCM replacement need, contact us.
Locksmith Near Me—West Palm Beach, FL
It's important to find a locksmith service provider with experience in dealing with these types of issues and the right equipment to do the replacement and reprogramming. You can rest assured that our company is more than capable of delivering the best anywhere you may be within the city. Waste no time; let's get you back into your Fiat 500.