Professional Lock Rekey Solutions at Door N Key Locksmith
At Door N Key Locksmith, we understand the importance of a secure lock system for your home or business in West Palm Beach. Our professional lock rekey services offer a cost-effective and efficient solution for enhancing the safety of your premises. Whether you've moved to a new property, lost your keys, or simply want to enhance your security system, lock rekeying is a smart and affordable option. Our skilled technicians possess the necessary expertise to rekey locks of all types, ensuring your peace of mind. Contact us right now!
Comprehensive Lock Rekey Services in West Palm Beach
We take pride in delivering high-quality lock rekey services to residents and businesses in West Palm Beach. Our well-trained locksmiths can swiftly respond to your call and arrive at your location, equipped with the necessary tools to provide efficient rekey services. By altering the internal mechanism of your existing locks, we offer a fresh start for your security without the need for full lock replacement. Our service is fast, dependable, and catered to your unique security needs. Our services include:
Residential Lock Rekeying
Commercial Lock Rekeying
High-Security Lock Rekeying
Master Key System Rekeying
Mailbox, Cabinet, and Safe Rekeying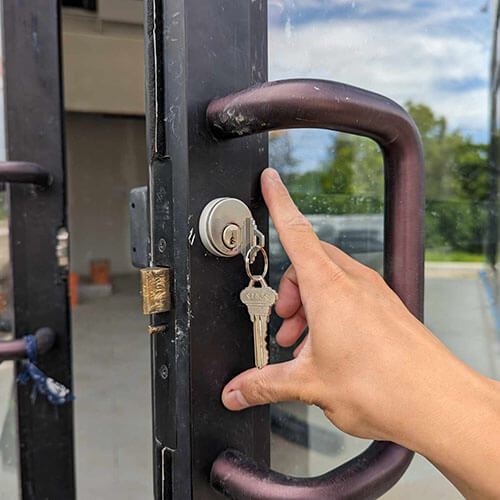 Secure Your Homes with Unparalleled Residential Lock Rekey Services
In an ever-changing world, security remains a constant concern, especially when it comes to our homes. Door N Key Locksmith rises to this challenge with its superior residential lock rekeying services. We handle each job with precision, making sure your locks work seamlessly with new keys, while the old ones become obsolete. This service is perfect for those moving into new homes, aiming to revoke access from previous keyholders without changing locks entirely. Ready for a safer home in West Palm Beach? Call us now for top-tier residential rekeying services!
Empowering Businesses with Trustworthy Commercial Lock Rekeying
With our commercial lock rekeying service, we provide the safety net your business needs. Our dedicated technicians efficiently modify your commercial locks, ensuring old keys no longer work, thereby enhancing the security level of your establishment. It's time to give your business the protection it deserves. Contact us today and strengthen your business's security!
Elevating Security Standards with High-Security Lock Rekeying in West Palm Beach, FL
High-security locks are engineered for ultimate protection. However, circumstances may call for these locks to be rekeyed. Our highly skilled team is proficient in handling high-security lock rekey tasks, regardless of the complexity. Using advanced tools and techniques, we ensure your high-security locks provide robust protection against unauthorized access. Elevate your security today! Call us for reliable high-security lock rekeying.
Streamlining Access with Exceptional Master Key System Rekeying
A single key for multiple locks – convenience at its best! Our master key system rekeying service offers this convenience by altering your locks to work with one master key. Ideal for property managers and homeowners with numerous locks, this service simplifies access without compromising security. Enjoy the ease of a master key system. Reach out to us today to streamline your lock access!
Experience Professionalism and Expertise with Door N Key Locksmith
Last but not least, we, at Door N Key Locksmith, pride ourselves on the professionalism and expertise we bring to our locksmith services in West Palm Beach. Our trained, insured, and bonded locksmiths are adept at providing top-notch lock rekeying solutions tailored to meet your specific needs. We understand that every client is unique, and we strive to offer personalized services that assure satisfaction and peace of mind. Ready to experience professional lock rekeying services? Dial us now!